After lengthy discussions, We are proud to announce that the Hawkesbury Flood R…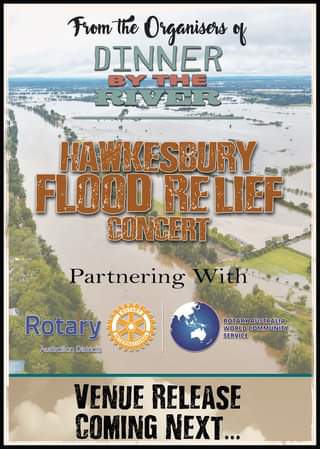 After lengthy discussions, We are proud to announce that the Hawkesbury Flood Relief Concert has partnered with RAWCS – Rotary Australia World Community Service as our charity for the event. Rotary have an
extensive presence in the Hawkesbury and will be working with us to distribute money raised to those in need.
"The money raised from the Appeal will go directly and quickly to support those impacted, providing essential items and financial support where Disaster relief and Insurance claims won't stretch," said Rotary Australia World Community Service Ltd CEO Andrew Woodward."
Keep an eye out for the donation link, it will be up this week.
Stay tuned for the next announcement!